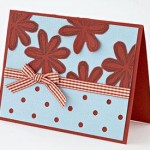 Card Creations is a group for anyone interested in making hand crafted cards and gift boxes etc.
It is open to all levels of skill from total beginners to experienced experts.
We meet on the 4th Monday of each month in the back hall at Southwick Methodist Church.
On a 'demonstration' evening someone from the group will demonstrate a skill that others are interested in learning, then everyone can 'have a go' at their own version with assistance if required.
On the other Mondays we have a 'workshop' evening when members continue with their own projects, so we can all share ideas with each other.
We are a friendly group of both ladies and men, who will always welcome new members of all abilities.
Why not come along and even bring a friend too?
All evenings start 7.30 p.m. £2 workshop evenings, £2.50 demonstration
For further information contact: Heather, June or Christine.
Programme 2017
September 25th – demonstration
October 23rd
November 27th – demonstration